Felsritzbilder aus den Nördlichen Kalkalpen (Austria)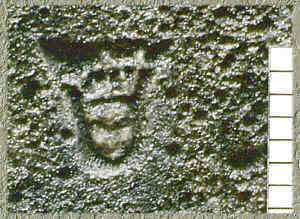 Kopf mit Krone, 14./15. Jahrhundert
Head with a crown, 14th/15th century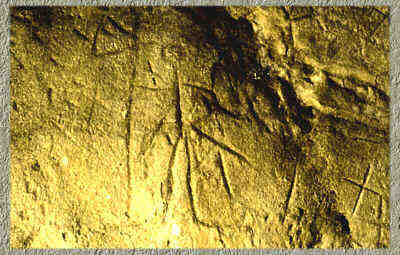 Landknechtsdarstellung bzw. Hellebardenträger. 16. Jahrhundert

Mercenary (lansquenet), carrying a halberd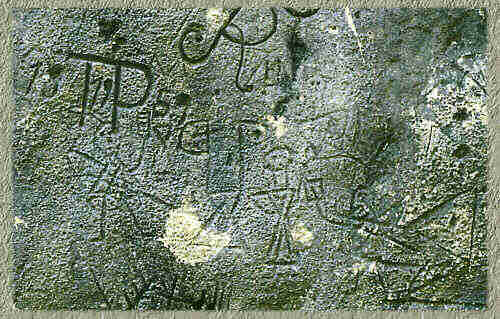 Menschendarstellungen und Sexualsymbol, 16. Jh.

Picture of humans, sexual symbol, 16th century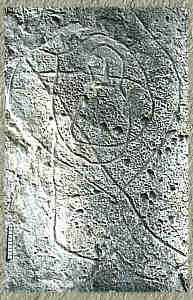 Anthropomorphe Figur. Detail von einem 1m großen Felsritzbild.
Zeitstellung: Mittelalter?

Anthropomorphous figure. Detail of a pictograph, 1 m high. Time: Middle Ages?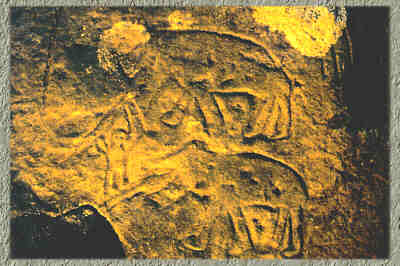 Bärenjagdszene. Zeitstellung: Spätmittelalter

Bear hunt. Late Middle Ages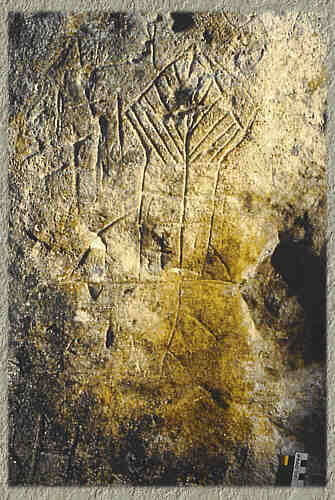 Abstraktes, komplexes Liniengefüge mit stark verwitterten Kerben.
Zeitstellung: 1. Jahrtausend n. Chr.

Abstract arrangement of lines, cuts heavily weathered.
First millenium A. D.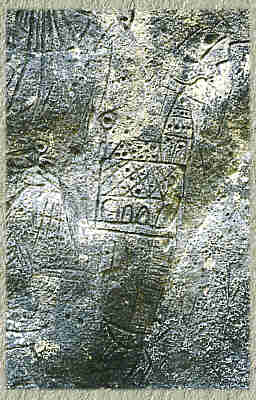 Kirchenabbildung mit spitzen Turmhelm. 12. - 15. Jahrhundert.

Church with pointed spire. 12th/15th century.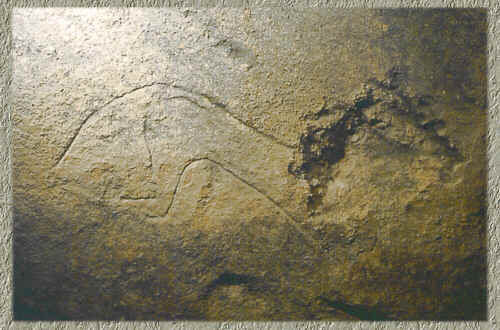 Tierdarstellung mit ausgeschlagenem Haupt. Römerzeit?

Animal, its head removed. Roman period?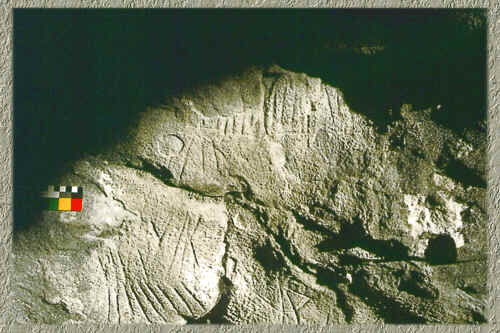 Kerbenanordnung. Zur Wintersonnenwende wandert der Schatten der Sonne innerhalb von mehreren Wochen über diese Kerben.
Zeitstellung: Spätbronzezeit?

Series of cuts. Before and after winter solstice the sun travels along the cuts,
marking each individual day. Late Bronze Age?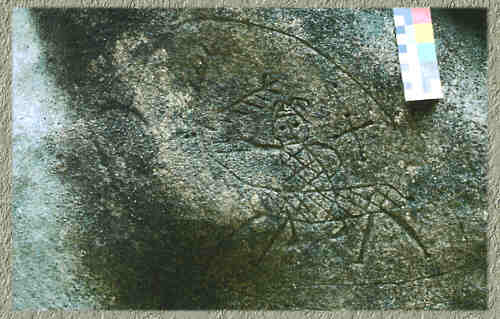 Jagdszene. Hirsch und Jäger mit Jagdspieß. Auffallend ist die naive Lösung perspektivischer Probleme durch Übereinanderritzen der Figuren. Ein Kreuzzeichen neben dem Jäger könnte als Glückssymbol gewertet werden.
Zeitstellung: Spätmittelalter/Neuzeit

Hunting scene. Deer and hunter with spear. The problems of perspective have been solved by carving the figures on top of each other. The cross beside the hunter may be seen as a symbol of good luck.
Time: Late Middle Ages, or later.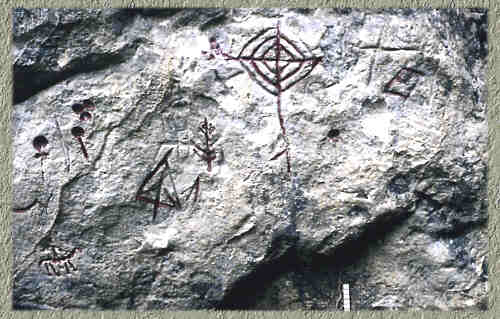 Bildwand Höll, Spital a. P.
Die Kerben der Felsbilder wurden mit Lack eingefärbt. Ein Beispiel der Zerstörung von Felsbildern. Auch das Nachzeichnen mit Kreide und anderen Farben auf dem Fels gehört zu den abzulehnenden Dokumentationsmethoden!

Series of pictographs on rock face, Spital a. P. The cuts were later traced with paint. Here is an example to demonstrate the destruction of pictographs. Tracing lines with chalk etc. Is another method to be rejected.